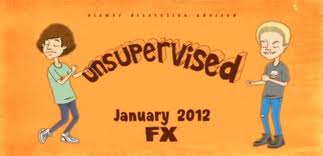 Unsupervised is an animated, half-hour comedy about two eternally optimistic best friends "Gary" and "Joel," who are navigating the harsh landscape of adolescence and trying to do what's right despite having no parental guidance whatsoever. Gary's father took off years ago and left him with his absentee stepmom, while Joel's elderly parents remain unseen and uninvolved. And the adults that are actually present in Gary and Joel's lives are anything but role models. At first glance, Gary and Joel's world may be bleak but their worldview is bright as they guide themselves through life with each other to depend on.
Unsupervised features the voices of Justin Long as "Gary," David Hornsby as "Joel," Kristen Bell as "Megan," Rob Rosell as "Russ" and Romany Malco as "Darius." Recurring voices include Kaitlin Olson as "Carol" and "Danielle," Fred Armisen as "Martin," Alexa Vega as "Christina," and Sally Kellerman as "Principal Stark." Guest voices include Dave Foley as "Darren," Maggie Wheeler as "Pam" and Glenn Howerton in a variety of supporting roles.
Ad blocker interference detected!
Wikia is a free-to-use site that makes money from advertising. We have a modified experience for viewers using ad blockers

Wikia is not accessible if you've made further modifications. Remove the custom ad blocker rule(s) and the page will load as expected.