Rob Rosell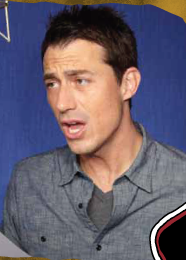 Role   -   Co-Creator, Voice actor, Executive Producer
Character   -   Russ
Rob Rosell is a co-creator and executive producer of Unsupervised, along with David Hornsby and Scott Marder. He also provides the voice of "Russ Brown" for the animated series. He is also entering the eighth season of the FX comedy It's Always Sunny in Philadelphia, where he is a writer and executive producer.
He is a graduate of Syracuse University and currently resides in Los Angeles with his wife, Sarah.
Ad blocker interference detected!
Wikia is a free-to-use site that makes money from advertising. We have a modified experience for viewers using ad blockers

Wikia is not accessible if you've made further modifications. Remove the custom ad blocker rule(s) and the page will load as expected.