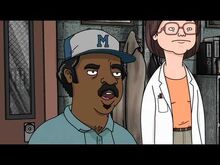 Coach Durham is a teacher and baseball coach at Maynord high school. Gary and Joel are students in Coach Durham's class. He is responsible for teaching some of the schools under achieving students also known as the "turtles". He lives in his car which he parks just outside the schools baseball field. He is voiced by Clifton Powell.
Ad blocker interference detected!
Wikia is a free-to-use site that makes money from advertising. We have a modified experience for viewers using ad blockers

Wikia is not accessible if you've made further modifications. Remove the custom ad blocker rule(s) and the page will load as expected.